There's a little girl who wants to tell you a story about the birthday party she is going to and the struggle she has getting there! There are words for her struggle, of course, but just as importantly, this little story has pictures and these delightful, vivid pictures are brought to you by a wonderful artist who hails from China. Her name is Helen H. Wu.  

She studied in Beijing and Hong Kong before immigrating to the United States, where she established a design studio in Atlanta, Georgia where she works with a team of artists to create an array of illustration and design art, including short films.  

Helen's artistic style is bright and colorful and can be seen in her work as a fine art painter, children's book illustrator, and graphic arts designer.

Click on the thumbnails to view the illustrations

Click on the cover image to visit the corresponding book page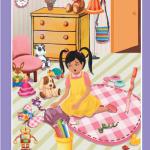 When I first viewed Helen's work I could see the strong influence from her cultural background - an ethereal quality with rich colors and fluid lines. Her happy, spirited six-page interpretation of my poem, "The Birthday Present" is delightful. Thank you, Helen. 

"Happiness is a place where reading and learning 

walk hand in hand."    ~ LChambers


Website Designed and Developed by

OVER COFFEE DESIGN

Linda Chambers Children's Books © 2015